Large Pucker Powder
Dimensions:
Outlets:
Monitors:
Please call to reserve this item.
Book Online or Call 704-708-4564
Delivery to Charlotte and surrounding areas.

Professional On-Time Event Crew!

Book Today!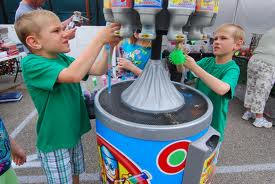 Remember pixie sticks?
Pucker Powder is today's pixie sticks. There are 12 different flavors of sugar to choose from. Grab a tube and let the fun begin! You can fill your tube with as much, or as little of your favorite flavor. When the tube is filled, you cap it and away you go. Kids love to create these tasty treats. Very popular with kids of all ages. This is perfect for school, church, or other large events.